Wednesday, October 18, 2006
Voice of Apartheid
"Israel and Australia are like sisters in Asia. We are in Asia without the characteristics of Asians. We don't have yellow skin and slanted eyes. Asia is basically the yellow race. Australia and Israel are not - we are basically the white race. We are on the western side of Asia and they are on the southeastern side."


— Naftali Tamir, Israel's ambassador to Australia.
ß
Voice of Apartheid
Sunday, October 01, 2006
Ramadan Greetings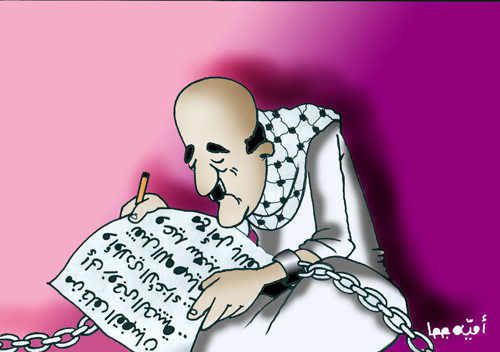 Arab Prisoner: "To My Dear Family, Happy Ramadan!"
This cartoon depicting Ramadan is by
Omayya Joha
, a Palestinian woman cartoonist living in Gaza. I came across this cartoon at
Bint Jbeil
an excellent website that speaks volumes about life under an occupying power.
While the world sleeps:
1
.
UN says Gaza crisis 'intolerable'
2
. West Bank Wall: cause of displacement and worsening humanitarian situation:
[HTML]
[Pdf]
And sign the petition:
Sign here
ß
Ramadan Greetings
Thanks: