Tuesday, August 31, 2004
So Birds Will Always Fly
Malaysia's National Day. Love for one's country always brings to mind the humble peasant in the Balkan army, defeated by Sultan Murat the mighty. Murat asked why he gave his energy to such a futile effort when he could've just acknowledged his might and continue to till the land in peace. The peasant replied: "Padishah, in my heart there is a sky, and in the sky there flies a sparrow."

There's the sky of his homeland in everyone's heart, and the sparrow that soars up high. On this day I think of my country and pray for it and its leaders so God will protect them for as long as they are true. I pray that they will forever remember that power is given on trust, that whoever takes anything on trust will one day be accountable.

I pray that God will protect them — us — from corruption, greed, and futility. I pray that we shall always be looking for long term gains, not the quick fix. I pray that we shall always be honest and true, to ourselves and to our people. I pray that we shall always be level-headed, always wary of the grandiose and appreciative of our blessings. I pray that the ideals of our pioneers will always be held high. I pray that always the wrongdoers will be punished, and those who point out wrongdoings will not be put up to ridicule; I pray that when those in power see or hear of corrupt practises they will not turn their eyes or ears away, for which I pray that they too shall reap the harvest of calamity; I pray that those driven by greed will get their comeuppance, as greed is the devil's agent that sows destruction in a nation and a people. I pray that those in power will always listen to the pleas of the poor and the weak, not just the bayings of the rich and powerful.

I pray that we shall always be Malaysians and true.

ß
So Birds Will Always Fly

Monday, August 30, 2004
Jalang-Jalang Makang Ikang
Many thanks to
those who've written in to say hello, and to S who wrote an interpretation of my recurring childhood dream (
Morning Chiaroscuro
). My
Growing Up In Trengganu
series drew special interest, especially from people who remember some of the things I recall.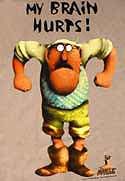 To AO who asked about the Kedai Yamada, (
Growing Up In Trengganu #28401
) the name wasn't my mother's invention. I remember her telling us that just before the Japanese Occupation, the shop was actually owned by one Mr Yamada. And my father used to speak of another Japanese person in Trengganu who was a food vendor, but soon as the Japanese administration came in, he became the Postmaster. I'm not suggesting anything about Yamada-
san
of course, he could've been an honest broker, but from accounts I heard (and am trying to remember), some Japanese forward soldiers were in Trengganu before the Occupation, playing seemingly innocent roles. I was very young when the stories were told, and now my brain aches to remember.
I was last in Trengganu more than 15 years ago, and the last I saw of the Abdullah al-Yunani, it had metamorphosed into another, and the name on the doorway was of someone who'd married into the family. The Yunanis, as I said, were long time Chinese-Muslim residents of Trengganu. As the name shows, they came from Yunnan, and later became Trengganuers in both language and culture, give or take a few slices of the celebratory cake during Chinese New Year. They had roots in Trengganu too in a most literal way for, just two doors away from the Abdullah al-Yunani was another shop, Ali al-Yunani. Ali was a Chinese herbalist and had jars and jars in his shop of herbs and roots and things that fascinated me so . I have an image still of Pak Ali, standing in the doorway, wearing his Muslim skullcap and Chinese trousers (just like Pak Awang), and wagging the strands of greying beard on his chin as he spoke to passers-by. He would've been the one person in Trengganu who could've transmuted metal to gold.
I'd like to record my thanks here to
Sangkelate
who drew my attention to a very interesting blogsite that also dabbles in matters Trengganu (though he spells it Terengganu, in the modern way). You may want to go there too, to read accounts from someone who was there when I was still a twinkle in my dad's eye: it's called — in true Trengganu style —
Di Bawah Rang Ikang,
and a fine site it is too.
Senyung sikik gok!
as we used to say in Trengganu; just smile, smile a little.
Note:
The Trengganu that I grew up in lived on
ikang,
fish. Our neighbours were mostly fishermen or
kerepok
makers, and everyday, around us, was the smell of fish. This was before off-shore petroleum, palm oil, and lumber. So, if you're wondering what the blog-title means, it's simply,
Walking and eating fish,
and I know you're sniggering, some of you posh
orang luar
people out there.
ß
Jalang-Jalang Makang Ikang
Sunday, August 29, 2004
Walking To Aleppo
As it's Carnival
day today, and the buses aren't running, I walked to my friend's house for a cup of tea, only to be embroiled in a little argument which shouldn't have started as he's Syrian and I'm not, and I've not been to his country anyway. But I was all hot from the walk, and this bus-not-running business was annoying me, so I felt like a little tiff and said, "My friend from KL is going to Halab, so I asked him to get me some
makdus
. I know they make good ones over there."
My friend the Syrian gave me his pontificating look and, er, pontificated: "Halab's not noted for
makdus
, but
za'atar
. Ask him to get some
za'atar
."
So there you are, three things in a row. But first thing first. Halab, as you know, is Aleppo, an ancient city where Tamerlane once decapitated twenty thousand heads and fed them all to vultures, and all because they resisted his entry into the city. And then there's
makdus
, which got me into another argument with my Arabic speaking cousin recently in KL who said that it's similar to our
jeruk
and it's not
makdus
but
makbus
. No it's
makdus
, I said, no it's
makbus
he said, so it went on and on that way. Well, my Syrian friend, when he's not argumentative, is a decent sort of fellow. "
Makbus
is like your
biryani
," he said, "and
makdus
is what I'm going to give you now."
So he went to the kitchen and brought out some
makdus
— pressed aubergines preserved in olive oil in alternate layers of aubergine; walnut and chili and spices; another flattened aubergine; another layer of walnut, etc; and so on. It's delicious eaten with piping hot pitta, under a tree, with a cup of mint tea, on an English summer's day. Or better, in Aleppo. So there you are dear cousin, you can put that in your
biryani.
And oh by the way, Aqua Cool, if you're reading this, I'm still waiting for your makdus recipe. ;¬)
As my Syrian friend was getting all hospitable now and was pouring me another cup of mint tea, I hadn't the heart to engage him in further argument about the
za'atar,
so I went home and quietly looked it up on the internet, only to find that
za'atar
is
sumac
, that it isn't
sumac
, that it's a middle eastern spice mixture that includes
sumac
, that it's a herb of the oregano/marjoram family, that it's a hybrid of thyme, marjoram, oregano, and then again, it's
sumac
. So now you know why there's so much conflict in the Middle East now. You can read this interesting exchange yourself at
Stefan's Florilegium,
a site dedicated to Creative Anachronism. And
sumac
is of course the acidic ground dried berries of the
sumac
(
Rhus coriaria
) tree.
But one thing's sorted out at least in this disputatious world, and which totally matches up to my research: the best biscuit for dunking (in a hot mug of tea, of course) is the ginger nut, and I hope you agree. Someone at the Waitrose Food International recently organised an experiment involving a team of food scientists and a hundred willing dunkers; and the quality they were looking for was 'the individual dunk episode of the average Briton', and the time it took for each biscuit to dissolve in tea. As you already know, Rich Tea biscuit's totally useless with its tendency to
flop
onto your lap, mat or cat after only the shortest dunk, and the Garibaldi's a definite no-no; so in order of merit — with optimum dunking time in brackets — the best dunkers are Ginger Nut (2.92 seconds), Chocolate Hobnob (2.85 seconds), and the suggestive Digestive (3.42 seconds).
So let me now ask you to celebrate the Ginger Nut, and urge you not to repeat the mistake of that little boy in the Grocery —
Little Boy (to Grocer):"Mr Grocer, do you have Ginger Nuts?"
Grocer: "Mind your own business, young sir!"
ß
Walking To Aleppo
Saturday, August 28, 2004
Growing Up In Trengganu #28401
My father, God rest
his soul, was a reading man who made straight for the Abdullah al-Yunani from the Masjid Abidin soon as he'd finished the
'Isha'
prayer. The Abdullah al-Yunani was the sole distributor of newspapers when family businesses still held sway and the Yunanis were a prominent Chinese-Muslim family in Kuala Trengganu. It stood in a street of textile merchants and photo studios, and next door to it was a shop that my mother always referred to as
Kedai Yamada
(Yamada's shop) even though the man in it was as far removed from Yamada-
san
as the mangosteen from a pineapple. He was in fact, of Indian origin, and went by the name of Mr Fernandez. Mr Fernandez kept clocks and watches in his shop that was out of bounds to little boys who couldn't tell the time of day.
Father would wait patiently every evening outside the Abdullah al-Yunani for the arrival of the Pahang Mail, the lorry service that brought goods to Kuala Trengganu from Kuantan in Pahang, or Kuala Lumpur on the other side of the world. That was how newspapers were delivered to us in those days, at the fall of night, after the
Isha'
prayers, when folks on the other side had discarded their daily rag and were settling down to their evening meal. Outside the Abdullah al-Yunani people would be chatting and waiting for their first glimpse of the day's headlines while the types were being set, and the presses rolled in Kuala Lumpur for the another day's pages, another day's paper.
Sometimes when I followed father to the Mosque I'd be standing there too with him, in my
kain pelikat
and
baju Melayu,
sometimes in windy, monsoony weather, waiting for the day's delivery. While waiting for the lorry to arrive I'd creep into the shop to look at the stock of books and comics and the old
kitabs
that the Abdullah al-Yunani was famous for.
Kitabs
as I knew them, were Muslim books, written in the Arabic language and script, or sometimes they were Malay books written in Jawi-Arabic characters. I remember some, like the
Taj-ul-Mulk,
which contained invocations and recipes for poultices, and the book of
Tibb
which was the Materia Medica of the local Muslim
bomoh.
But in daylight, when father was at work, I'd walk further up the road to
Kampung China,
the Chinatown of Kuala Trengganu. I had a friend there right by the Chinese butcher, and a school-teacher who lived across the road; but my constant delight was the Chee Seek store. The Chee Seek was as precious as the Abdullah al-Yunani, but represented a different spectrum of our reading matter. It stocked Chinese books, of course, and it stocked comics, and the US
Reader's Digest
which was heftier and jazzier than the British edition, and it had a little surprise in the back of the store.
Cramped behind the stacks and the shelves and the magazines that dangled from the overhead wires was a little business run by a middle-aged portly Chinese lady called Mak Mek. She could've been Chee Seek's mum, or his only daughter, or an aunt or mother-in-law, but she was the quintessential Chinese Earth Mother lady dressed in
batik sarong
and
baju kebaya,
whose deft hands manufactured the
ceranang
and the
keropok lekor chinoise
that was different in texture and looks from the ones made by the Malays on the shore. The
keropok lekor
was the specialty of the Malays of Trengganu, but only the Chinese made them from shark meat or
ikan yu.
The
ceranang,
I forgot to say, was a salad of blanched
kangkong,
(water glorybind), deep-fried tofu and diced hard-boiled eggs, doused with a creamy peanut sauce flavoured with dollops of the hottest chili.
Mak Mek's husband Pak Awang was seldom there as she tended to her customers in this tiny store that was open by secret arrangement with local officers at the Town Hall. Pak Awang was a roving ambassador, a wheeler dealer, a Taoist man in Chinese trousers who roamed the streets on some special errands or urgent matter. He was a medicine man (
bomoh,
) and a soothsayer, perhaps even a necromancer. I saw him once at the house of a neighbour, exchanging homilies with the man of the house while his wife and sons were busily crushing fish for the day's
kerepok lekor.
He spoke fluent Trengganu Malay, which is as foreign to out of state persons as Swedish is to a Swahili speaker. Once I heard Pak Awang say to this neighbourhood
kerepok lekor
man that for a house to receive maximum blessings it must be facing the Kaabah in Makkah.
The Chinese have a long history in Trengganu, dating back to the time of
Zheng He
(Cheng Ho), the eunuch Muslim admiral, who visited Trengganu in the 15th century, or even earlier. In the 19th century, prominent members of Trengganu Chinese families were given special dispensations to issue coins in return for services to the local Sultan, but this was abolished by the British when they took control of the state's coffers.
ß
Growing Up In Trengganu #28401
Not Seen On eBay
Some write with
pen dipped, in molasses or in vitriol; some move words, mightier than swords, to make a plaintive cry. The moving pen writes, having writ, moves on, to places you never know...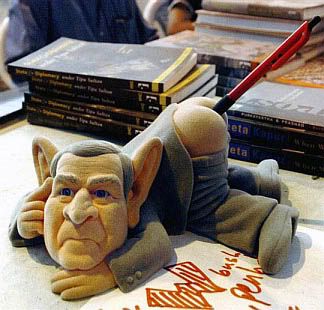 I have stolen this picture from Phil of Flying Chair who in turn got it in his email. Thanks Phil, mind how you go now!
ß
Not Seen On eBay
A Very British Coup
Hands up those
who know where
Equatorial Guinea
is. Well, Mark Thatcher does, or so the elite south African force known as the Scorpions think, and he isn't the brightest coin in the kitty.
Mark Thatcher, now Sir, by way of an hereditary baronetcy that Lady Thatcher gave her late husband Denis just before she left office, is now under virtual house arrest in South Africa for allegedly having tried to plot a coup in that tiny state.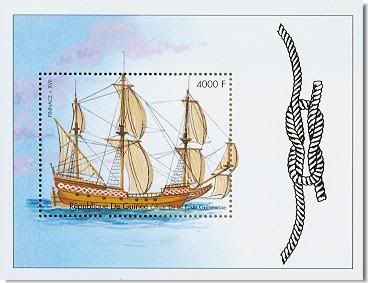 When they raided his house this week he was still in his pyjamas, then they allegedly found that he'd packed all his luggage, ready to go. According to reports there've been various excuses for his being in this state of readiness: that he and Texan-born wife were about to leave for the US to save their marriage, that he was downsizing and moving to a smaller house because the children were now at boarding school, that he was leaving because he'd been receiving anonymous threatening messages for his alleged links to a coup attempt in Equatorial Guinea. If anything, this proves one advantage of being rich, that with money you can have a choice of more than one alibi.
What this whole affair has unravelled is that there are restless elements - sickos from the SAS faction of the British army - who, on retirement, always seem to be up to no good in Africa, finding little parts that we rarely hear of, and always - in the middle of that - a field or two of oil. To be fair, Equatorial Guinea does pop up from time to time in the news though, every six months if some elements are to be believed, because in sunny Spain lives a man named Severo Moto who styles himself President in exile of this beleaguered state. He is now also implicated in the present coup attempt. "Of course he was behind the coup, he does nothing else. He makes another attempt every six months," Adolfo Marugan, director of the Association for Democratic Solidarity with Equatorial Guinea is reported to have said.
Equatorial Guinea lies between the Cameroon in the north, and Gabon in the South, and is forever hovering in the minds of assorted right-wing schemers and dreamers who think nothing of plotting a coup or two in obscure places in Africa with a large potential for wealth, and that most troublesome of troublesome commodities, oil. Equatorial Guinea has once again shot to fame, with that attempted coup where one man, a Brit, has already been found guilty. The last time it took the limelight was in the Sydney Olympics 2000, when its swimmer Eric Moussambani swam the slowest 100m freestyle in the record books. So intense was media interest in him then that Equatorial Guineans thought he'd won the gold medal.
Now that's as much as you or I know about the country, but judging from the crowd now charged with planning the abortive coup, there's a plethora of ex-public schoolboys, former SAS desperados, and not a few Walter Mitty characters out there who're more than just interested in Equatorial Guinea. Among those that now stand out from the cast of alleged characters is
Lord Jeffrey Archer,
the millionaire fantasist, novelist and perjuror. Now Sir Mark and Lord Archer have of course denied all these charges, based so far only on the allegations that they have both invested large sums of money in the planned takeover of the country. The rich are always transferring large sums of money to each other, so there's no need to be rough as yet.
Sir Mark is of course known to some Malaysians when his robust interest in business touched their lives in those thrusting Thatcher years of power in Blighty. Before going into business he was a rally driver, surrounding himself with attractive women and powerful cars. Once, in an African rally, he got lost in the wilderness, and for the only time in office the Iron Lady was seen to be wiping tears from her eyes, though I can't recall now if she did that when news came in that Mark was missing, or when news came out that he'd been found. While travelling in the continent, Young Mark also developed colourful views of the world, augmented perhaps by the views of his equally colourful dad Denis Thatcher. He once called the continent he'd been lost in "nig-nog land", which isn't surprising considering that the rich and the privileged in the higher stratum of Blighty do sometimes adopt this racist, dismissive style. Another upper class twit, diarist, politician and fornicator, the late Alan Clark, once referred to parts of Africa as Bongo-Bongo land. But why now have they pinned this charge on Sir Mark who, for all we've seen, couldn't have had any inkling of Equatorial Guinea nor find his way out of Africa? Of course, I hear you say, we can't be sure. Maybe in those public schools of England (young Thatcher went to Eton) they do teach esoteric parts of geography. "Now Thatcher, take note of this: here be dragons, here be Equatorial Guinea." Did Thatcher take careful note of that? Perhaps we shall soon know.
There's another aspect of Equatorial Guinea of course that might excite some of you dabblers in philately: it does produce wonderful, beautiful stamps. So perhaps these Old Etonians and SAS types now facing the beaks in the court houses of Equatorial Guinea will heed the example of the late
Victor Kiam
who loved Remington Razors so much that he bought the company. "I do so love those beautiful stamps M'Lud, I have to take the country."
§
Life and Times of Mark Thatcher
ß
A Very British Coup
Thursday, August 26, 2004
Cinema Verite
A Short Interlude
[Courtesy:
takebackthemedia.com
]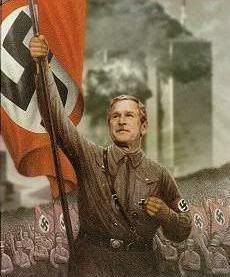 Don't adjust reality, turn on the sound, pile on the popcorn, sit well back, click on Bush, above.

May take a few minutes to download
ß
Cinema Verite
Tuesday, August 24, 2004
Time Tunnel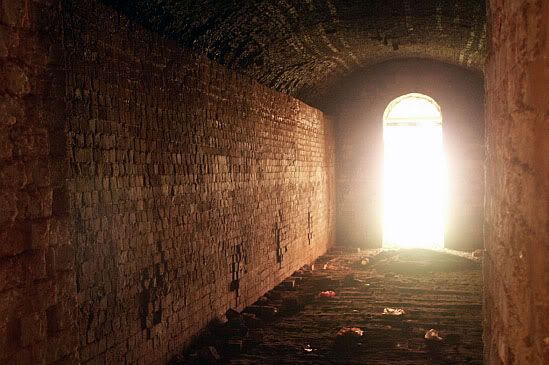 One morning I
was wandering in Batu Arang, just outside Kuala Lumpur, and found this strange looking place with old chimney stacks, and plants growing out of the floor of what looked like an old factory. It was an old kiln, still running, with a handful of workers wandering about aimlessly, like Pirandello's characters in search of a role in a play. They made bricks there, at the dawn of time, and the dawn of time in Kuala Lumpur wasn't all that long ago.
"I believe," said one man, "they made bricks here for the State Secretariat building that was - for a long time - the landmark of Kuala Lumpur." I picked up an old brick from the floor, split in two, and it looked remarkably old.
"Some of them even had BATU ARANG imprinted on them," the man told me.
I wandered around the sprawling, ancient place and found myriad wonders. Old machinery still making roof tiles, old workers who remembered their parents working before them in this very workplace, old ghosts wandering restlessly in their ennui. There was a tree growing roots into an old wall, and then I found a tunnel that contained the debris of untended years. I walked into it and saw light coming out, from the end of the tunnel.
"Come again Friday," the man said, "and you'll see things happening here."
Why Friday? What happens here?
"Oh, we get the firewood on Friday, then we'll light the kiln, and you'll see a great big fire."
I never went back, but I shall remember, I shall remember, the light at the end of the tunnel.
ß
Time Tunnel
Sunday, August 22, 2004
Morning Chiaroscuro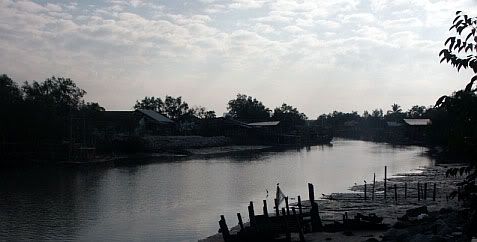 I took this
picture in Sabak Bernam, Selangor, Malaysia, at about 10.15 in the morning. We were waiting for a boat to take us to a
kelong
about 6 nautical miles out at sea. The river, Sungai Besar I think, was quiet, there was a solitary bird perched on a branch, and the opposite bank looked unfriendly and inaccessible. It wasn't too early, but the morning was gentle, still: the sun wasn't yet too bright, there were scaly clouds in the sky, and shafts of light were coming through in a most wonderful way. If you look closely at the sky you'll probably see some of that in the picture.
When I was a child I had a recurring dream of waking up early morning in a house by the sea in Kuala Trengganu. It was always very early, as the weak grey light was just coming into the house through the open front door which I couldn't see as there was a screen between it and me. But I could see the light coming in from the sides of the screen into the room, slowly lifting the remaining darkness of the previous night. It filled me with extreme melancholy, sitting in that semi-darkness,looking at a burgeoning day.
Looking at this picture now I feel a bit of that old melancholy creeping out from the cervasse of memory. Funny how the past can suddenly appear in a picture that was taken years later.
A
kelong,
by the way, is an off-shore structure built by fishermen to house fishtraps, and was built from tree-stems or bamboo. I was half-expecting to see that when the boat came to take us out to sea, but as we approached this
structure
at sea I realised that it was not made of wood but concrete, and was poised out there like an oil rig standing proud in a rough sea. This
kelong
actually called itself a Resort, with dorms and suites for people who fancy a few days out there listening to the ocean waves. The people I saw there were mostly fishing enthusiasts, with rods and all, and they looked very happy.
ß
Morning Chiaroscuro
Saturday, August 21, 2004
Two Deaths
Coming back to
Blighty I am saddened to learn that two people who've played important parts in my humble life have died. I developed my writing career reading Bernard Levin and Paul Foot, the former in the
Times
(when it was still a great newspaper), and the latter in
Private Eye,
the magazine that more than any other, shaped my view of the world
I spent my early years poring over the columns of Bernard Levin who died 7th August, at the age of 75. .
Levin wrote impassionedly, on many issues, and wrote long, long sentences that once grew into a whole column. He was sometimes infuriating, but never dull. He was an embattled Wagnerian, a marvellous prose-writer, and a campaigner of many causes. His column on his Mum's battle with British Gas (
Mrs Levin's Geyser
) was a classic. He was one of the pioneers of satire on British Television (
That Was The Week That Was
- TW3), and, in his life, did many wonderful and weird things. I think at one stage he became a member of the orange cult of Bhagwan Shree Rajneesh, became male companion to the social-climbing Oxbridge graduate Ariana Stassinopoulos, and then he faded into oblivion. I came to know much later that he was then privately battling with Alzheimer's disease.
Paul Foot was also a tireless writer, but he belonged to another breed of ex-public schoolboys who became social campaigners from the left. Foot was not a full-fledged member of the satirical magazine
Private Eye
(started by a group of fellow Salopians), but he was always close to it, writing for them investigative pieces that raised public ire, and toppled quite a few public figures. He was active in the Socialist Workers Party (SWP), but kept his mischievous sense of humour always. Listening to Foot railing against the system or uncovering wrongs was like listening to a stand-up comic - he was deadpan, deadly and accurate.
He won many journalistic awards while on the staff of the
Daily Mirror
newspaper, and took up many causes. He was from a family of dedicated public servants and book lovers. (His father, Lord Caradon, was a journalist who later became a distinguished British diplomat and President of the Security Council, October 1969. Uncle Dingle Foot, was a famous Queen's Counsel, and another, Michael Foot, was leader of the Labour Party.) He took up many lost causes and even won some. I spoke to him many years ago on a subject that interested us both, and he very kindly mentioned me in one of his books (though I can't now remember which). His
Footnotes
in
Private Eye
was required reading for the scandals and shenanigans that the mainstream papers ovelooked or pretended not to know.
John Pilger, another great campaigning journalist and former colleague of Paul at the
Daily Mirror
called him Britain's best journalist. Paul Foot collapsed and died Sunday 18th July at the airport while on his way with his family to a holiday in Dublin.
Obituaries:
§
Bernard Levin
§
Paul Foot
ß
Two Deaths
Friday, August 20, 2004
Reaching Those Parts
Well, I never,
I thought a Merkin's a nice sobriquet for our friends across the pond, (see
Decency Now, Democracy Later,
below) but no:

Dear Beta-Blogger,

You used 'Merkin' as a shorthand for Americans. Perhaps you'd like to know that a merkin is a rug used by those follically challenged in the nether regions. Please be very careful where you grope next time.

Yours,

Hirsute Chef

Dear Hirsute Chef,
I knew this was going to lead me to the Bush. Thanks for writing in, be very careful now with the flambé.
For more joys of Merkin, go
HERE
ß
Reaching Those Parts
Decency Now, Democracy Later
It's a sign that things have gone awry when bombs come aflying in the night and men and women are humiliated and hooded, raped and buggered in prisons while the perpetrators rant and rave about democracy. It's happening now right before our very eyes, troublemakers becoming peacekeepers, and no sign of it ever abating in this or the next century.

After Iraq then what? Iran is experimenting with nuclear weaponry, so Israel - a nuclear clubber itself - makes threatening noises while the Iraqi torturers are applauding in glee. The Iranian nuclear facility, ironically, is called Busheshr - eponymous? I don't know. And then Iran says if those defenders of democracy in the Middle East (no, not the Merkins, the other one) do attack, they will retaliate by nuking Dimona. Well, bully for them for that.

Well, in case you get all worked up and get all excited by this fight for democracy and the right of native peoples to be where they are (pace Darfur, Sudan), please go to a map and look for Diego Garcia which I've blogged about before. Yes, that's right: Where? What?

Diego Garcia is a fine example of this bosomy relationship between Blighty and Uncle Sammy. Diego Garcia was right there in the Indian ocean (a recent survey showed that the average American student doesn't know where the Pacific Ocean is, never mind the Indian), but now, Diego Garcia is in the battered suitcases, the abject poverty, the crass treatment and the collective, tearful memories of those poor islanders who're now dumped in nearby Mauritius. With he helping hand of the Brits of course, because the Merkins wanted to use the island for bombing missions to bolster democracy.

Not two years ago the Diego Garcians took their case to the English Courts, won a victorty of sorts, then back they went to their squalor and misery, in Mauritius. Documents found in the repository of the Foreign Office, and produced in Court, showed how the Brits were doing things at the behest of the Merkins. The Diego Garcians were asked to leave without any of their belongings, their pets were destroyed by the invading Merkins, and by their stealth, the Brits thought the world wouldn't have noticed it all.

And the next we heard about Diego Garcia, after all the natives had left and the pets killed, was on the day of Shock of Awe, 20th March 2003, when everything zoomed and boomed from there, and the people of Iraq thunderstruck, by this war to spread democracy.

But of course Diego Garcia doesn't transfer to Darfur in Sudan, of which we know so little, except that one group of natives are doing their darndest to drive another out of their land. All very wrong of course, but who's shouting the loudest about this now? The same people who brought you shock and awe. Next time you see them, ask where Diego Garcia is, the Pacific Ocean too while you're at it, see if they know or care.



* * *



This is of course, the the age of spin, a word that was once synonymous with crookedness and lies. Truth bends a little nowadays, for sure, and never meets you headlong but comes sideways. This explains why Blair of Blighty faced enormous difficulties about WMDs leading up to the Iraq invasion, why a certain Prime Minister in Australia is facing questions about his allegation that refugeees were throwing babies overboard from a ship trying to come ashore, why even our dear Bushy tailed president of the US of A has faced enormous difficulties, not only about his conduct of this so-called war, but also about his own war records.

Things ain't what they appear to be.

Looking now at Darfur, I know very little of the land and have not been beyond Atbara, Khartoum and Port Sudan, but I can say that the Sudanese are far from being Arabs, though they wish to be so by the claims of many reports. The tribes now being attacked in Darfur, an 'African' part of Sudan, are from the tribes of Fur' the Massaleet and the 'Zagawa', and they are, by large, Muslims, the Fur' having once had a Sultanate in their land. And those attacking them are said to be Sudanese too, though of 'Arab' origin, in a group called Bilharzia, or whatever. I have deliberately deprived them of their name because, whoever they are, they're doing despicable things to their own people. So keen are they — these Muslims — to drive out other Muslims that they have plundered villages, raped women, murdered men and children, and torched Qur'ans and even used them as toilet paper. So reports say. Maybe it does sound about right to you, but to me it feels that something is not quite level. I admittedly don't know what is happening in Darfur except that there's suffering and death, and evil out there.


ß
Decency Now, Democracy Later

Tuesday, August 17, 2004
Drinka Cuppa Tea
You don't have
to be too long in the tooth to remember that there was once a device called the Teasmade which woke you up in a head of steam on the morning of the night when you went to bed in a bad hotel. Behind the Teasmade was a notion that technology would one day supplant the Tealady, but the Tealady is still snugly rolling along, and it's the Teasmade that's gone the way of the hula hoop and the riddle-mee-ree.
Well, I drink copious amounts of tea - without milk, if you please, and none too sugary - and have had contretemps with both the Teasmade and the Landlady. In the crowded trains of Maghreb I have ducked a great number of tea bearers squeezing through strap-hanging passengers with their tea-carrying devices that consisted of a fair sized metal kettle with an attachment in the base which carried, I noted with trepidation, a bed of burning coal. The tea was delicious, with a sprig of mint thrown into the glass, and the tea-vendor hurt not a soul in his path, but burnt a big hole in my pocket as it was a long way from Tangier to Oran in Algeria.
At the
Anuga
in Köln some years ago, I met a man named Ahmad, an Iranian by birth, who was, by some remarkable coincidence, married to a Malaysian lady. And here he lowered his voice, did Mr Ahmad, as he spoke of his lady wife, who, he said, had the iron-clad will of the product...and all I can tell you here is that it's a famous girls' residential school in the land of
BOH.
What about Malaysian teas then? I asked Ahmad, diverting the conversation from the subject of his awe to one that restored his natural gusto. "Malaysian teas," he said, "isn't much to write home about."
Now I've drunk many teas of many nations, and I must say that my taste in the brew is unremarkable. Assam's too strong for my palate, and Darjeeling's too woody for my taste, but BOH's good enough for me. And BOH as you know, comes from the heights of
Cameron Highlands,
home of the Malaysian brew. And from there too came another brand of tea, called Bharat I'm told, run by a Malaysian family of subcontinental origin whose scion Mr Nandkishore Ram now lives in Spain, a multi-millionaire, a property magnate, erstwhile founder of the Regine's Club in London, and a Malaysian brew through and through. So let's raise our cups to Malaysian tea.
In Malaysia of course there's
teh tarik
, tea brewed in a metal mug, filled with condensed milk, laced with a dollop of sugar, then thrown into the glass from a height. The resulting brew is a milky brown liquid with a big head on it, and as sweet as the smile of a houri. It is drunk by the rich and poor, in hotels and by the roadside, but it regrettably isn't my cup of
cha
. It pains me no end to see the face of the tea vendor when, after being dragged to his establishment by well-meaning friends, I ask for nothing more than a glass of
teh-o,
the milkless Malaysian tea.
Some friends in South Africa recently sent me the
Rooibus,
and a friend in Malaysia gave a brave new brew that contained a message, it's a tea called
SOD.
So there I'll leave it off to brew.
§
A nice cup of tea with George Orwell
ß
Drinka Cuppa Tea
Bringing It All Back Home
So, how shall
I thank thee? Let me count the ways.
I want to thank
Kura-Kura
for a wonderful lunch, good ambience, good company, and unending birdsong. And thanks too to Mrs K-K for bringing me back something that I'd quite forgotten: how the Trengganu
kerepok lekor
was invented, and for what purpose. The origin of the
kerepok lekor,
as is well known, is shrouded in haze, but sliced and dried and fried, they curl up into crispy, edible, golden
spoons
that Trengganu men and women use to scoop their
mee goreng.
And so its teleological end.
Thanks too to
Pak Adib
for being unstinting with his time, always, and for his unending lessons in project management, to
Baike
who gave me a copy of her book, to the
Nomad On A Journey
who bought Pak Adib and me endless cups of tea, to Z for doing what needed to be done in my absence, and to all the cats I met in my
Jalan-Jalan
that kept me so amused, and commiserations to the relatives of the one that died just before I left.
I'm back now to where I started, and now I'm looking for work. How I wish I could, like Kura-Kura, sit in my haven and listen, all day long, to the chirping of birds.
But in my absence people have been thoughtful and kind. A reader, F, wrote this after reading my blogs, reminding me that whatever I am, I'm not a one dimensional person (I'm 3-D actually, if you can find the right tinted glasses):
"Blogging and writing ... they're both quite funny in a sense. Who are you? I used to ask when I read their writing. How can a person so civilised in person be so rude when he writes - Axxxxx Jxxxx. How can a person so argumentative and hot-headed be so rational and well-balanced when he writes - my other half. Then, there's Axx Axxx, not a smidgen of fire to be found in his blogs. But I think whoever blogs or writes are very brave people, to let other people glimpse their Jekyll or Hyde. But then of course, people who don't write, we're actually not chickens; we're just one dimensional. What you see is what you get. Not worth writing what we think then! Hee!"
And kindness continues to pour in as to make me blush:
"Jalan-Jalan is the best current affairs blog. Never, never boring or preachy." — Emily Ding, Hole In My Head Blog
Thank you Emily, I've been a regular reader of yours too, which I enjoy very much, and I'm honoured by what you've said.
Yes, now that I'm back and out of work, what I do need now is a Hole in My Head.
ß
Bringing It All Back Home
Sunday, August 08, 2004
Home Thoughts
A kind soul
wrote in today to say this of Beta-Blogs:

"Angry, intermittently funny. One can't quite say if it's funny funny, or funny angry. Or angry angry."
O woe is me.
Funny you've said that, I sometimes find it hard to figure it out myself. Blogging sure is a funny business. But thanks
Logbaike,
for the message.
This is my fifth week on the road, almost, and soon - God willing - I shall be home, and I've just scratched the surface of what I'd ventured out to do. Well, my business is writing, but sometimes it's better to travel than to write, and in my travels I've met some happy people, some sad ones. Once I met Barbara Cartland, yes the one and the same, who gave me a leaf from her garden, dipped in gold and encased in the clear perspex of a paperweight. I was telling this to
Kura-Kura
today, and he, sensing a dose of name-dropping, asked in mock surprise, "You met Barbara Cartland?" "Yes," I replied, "I was sitting at home one day and had this urge to meet Barbara Cartland. So I phoned her up and she said, 'Yes, do come!'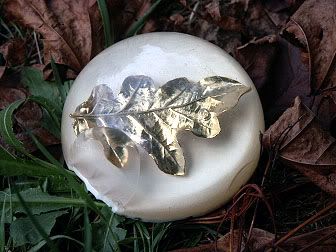 But let me first tell you about this leaf in the paperweight. It came from an oak tree, and as you know, oak trees live to a ripe age. So the lady Cartland had this one dipped in gold, sealed in perspex, and had this inscribed underneath, on the flat side of the paperweight: This oak leaf was taken from the oak tree in whose shadow Elizabeth I once sat, or something like that. The oak tree, when I visited her, (Cartland, that is) was still standing in the vast garden of her estate. And she really did wear pink, since you asked.
So you see, when you travel you're touched by other people who travel too, or who've travelled long before you.
Now that I'm out on the road again, I miss home too I must say, though I sometimes wonder where home is. And I miss all those lovely people I've left behind.
You know what they say about going back but never being able to go home to where you actually think you belong? Today I spent a brief moment in the morning with my sibling reminiscing about the place we grew up in. I could name all the Tamil shopkeepers in the row of shops in front of our childhood home. And more than that, I could still sing the song they sang during the festival they had every year in our village
surau
in honour of some saint or other whom I've now unfortunately forgotten. Maybe I never knew who this saint was in the first place, I was much too young then, and much as I enjoyed the sweet
ladhoos
and
barfis
that those Indian shopkeepers gave out to us kids, and the packets of rice and curry that came afterwards, I never was curious enough to ask who or why or what.
It wasn't all that long ago though, I have their brightly coloured banner still flying briskly in the wind of my mind, and the crowd that gathered around the great big well of the village
surau
or
madrasah,
and the faces I see are of people whose names I can give out to you in a doleful chant, if you have the time that is.
But of course you don't. And neither do I, come to think of it, because I too am hurrying home.
If only I can remember where that is.
ß
Home Thoughts
Tuesday, August 03, 2004
Love That Bob
I have seen
rabid rants against Muslims everywhere, but mostly I find them amusing because I use a palliative that is always sobering. It's very simple really: Muslims are dogs? Animals? Devils incarnate? Well, let's substitute Jews or even Christians for Muslims, and see if the
truth
still holds. If it now appears too ridiculous for words, then it's the utterer who's the nutter, not me. If this test makes the harbinger of this
truth
look like someone who's actually one sandwich short of a picnic, then it's he who needs the man in the white coat, not I.
But anti-muslimania is lurking its ugly head nowadays in surprising and not so surprising places.
The Telegraph
of the Little Englander is one newspaper that I love not to read because it's a blimpish rag. But even I find it difficult to ignore the
Telegraph
because it's sometimes so ridiculously mad. For instance, for a long time after Darius had died and the Peacock Throne fallen, Iran was Persia to the
Telegraph
. Istanbul was probably Constantinople to them for a long time too for all I know or wish, but what follows was written very recently, by a
Telegraph
writer called Will Cummins:

"Christians are the original inhabitants and rightful owners of almost every Muslim land and behave with a humility quite unlike the menacing behaviour we have come to expect from the Muslims who have forced themselves on Christendom, a bullying ingratitude that culminates in a terrorist threat to their unconsulted hosts." (July 4)

Perhaps the writer had forgotten about the Inquisition, but never mind, but who's Will Cummins?
William Cummins also penned these words in the
Telegraph:

"All Muslims, like all dogs, share certain characteristics." (July 25)

"Do the Tories not sense the enormous popular groundswell against Islam? Charge s of "racism" would inevitably be made against the party but they would never stick. It is the black heart of Islam, not its black face, to which millions object." (July 18)

"Now, at the behest of Muslim foreigners who have forced themselves on us, New Labour wants to import the same catastrophe into our own society." (July 11)

[
I'm grateful to the Muslim Council of Britain for having extracted the above quotes
.]
From the sound of the spiel, it looks like our Will had been bitten by a Muslim dog quite early in his life. So, will the real Will Cummins please stand up?
Marina Hyde of the
Guardian's
Diary column phoned the
Telegraph
to ask, and was told only this about the bashful Mr Cummins: that he was an ex-teacher, and that he wished to remain anonymous. Then the resourceful Ms Hyde invited readers of her column to send in anything they knew about the real Will Cummins. It worked.
If you're living abroad - outside Blighty that is - and are learning English at one of those British Council sponsored establishments, you'll be pleased to know that Will Cummins works as Press Officer of the British Council, and his real name is Harry Cummins. And if you're Muslim, you'll be pleased to note that the extracts above are what a Press Officer of the BC really thinks of you.
The latest I've heard is that William Harry Cummins has been suspended by the British Council. Well, not by the ba**s, I hope. Even a bigot deserves to have his thinking parts intact.
ß
Love That Bob
Thanks: